Excellent UX for sustainable
Particle Foam Production
E.HMI Connect / Erlenbach GmbH
E.HMI Connect is a forward-thinking software developed by Erlenbach GmbH for sustainable particle foam production. The software combines the concepts of various machine types and software generations into a holistic, user-friendly human-machine interface. Specifically tailored to the needs of different user groups, E.HMI Connect improves production efficiency by enabling not only control, but also monitoring and diagnostics with a single software.
User Interface
User Experience
Infographics
HMI
Responsive
Mobile Devices
Frontend
XAML
Challenge and Use
Erlenbach GmbH is an international manufacturer of processing equipment for particle foam materials. Particle foam parts find their main applications in packaging, technical parts in the automotive sector, and thermal insulation. The project's challenge was to develop a modular and scalable interface that could be adapted to the customer's entire portfolio of machines while meeting the diverse needs of all users.
Clear and Smart
For E.HMI Connect, we developed a comprehensive and flexible design system. Visualizations of the most important key figures keep users informed of the machines' status and production progress. Interactive illustrations make complex processes understandable and tangible. Machine learning and AI-supported features assist employees with analysis and production optimization.
Focus on Users
From the outset, we identified all requirements by surveying user groups and repeatedly validated them throughout the project using prototypes and user tests. The result is a user-centered interface that reduces complexity and enables users to quickly familiarize themselves with the software. Shorter training times lead to fewer operating errors and downtimes. Additionally, operators don't need to make unnecessary trips around the machine hall, as the software is responsive on different panel sizes and smart devices.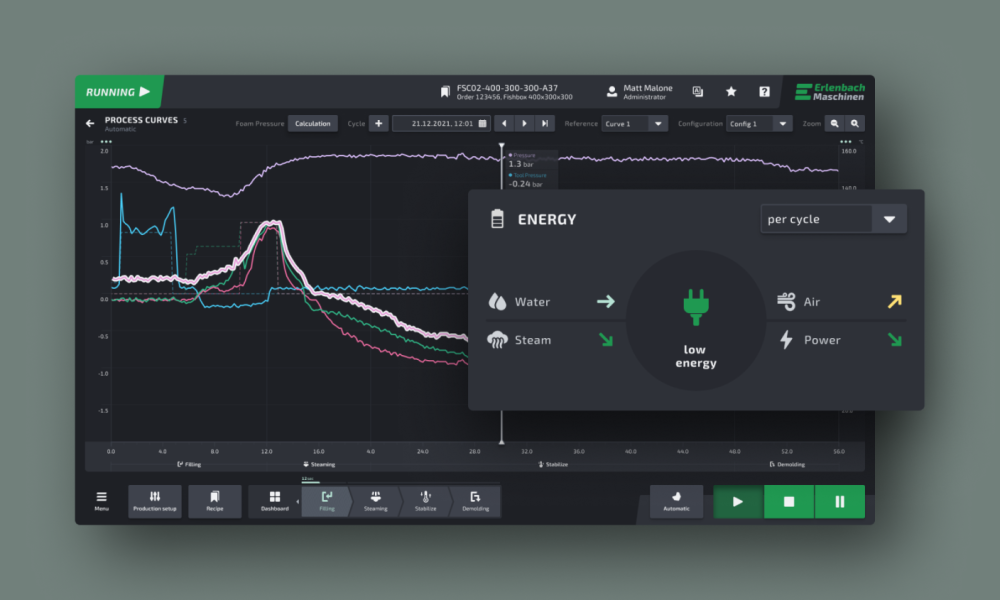 For a Sustainable Future
Erlenbach GmbH contributes significantly to greater sustainability not only by manufacturing products in the field of thermal insulation and insulation technology, but also by using biopolymers in production. The E.HMI Connect energy widget accurately records the machines' energy consumption. Monitoring enables service technicians to use data to shorten production cycles, optimize operation, and minimize equipment energy consumption. This creates significant added value from both economic and ecological perspectives.
Vimeo
External Video
We host our videos on Vimeo. When the videos load, a connection to Vimeo servers is established and cookies are set (possibly also from Vimeo).
Privacy